I
n Central Illinois, Spider Exterminator & Pest Control
ATAP Exterminators are the best spider exterminators in Chicago (Illinois) to spray for spiders. Call at Call (773) 701-7705.
An infestation of spiders in your house can be aggravating, frightening, and hazardous. There is simply nothing beneficial about them residing indoors. If your Illinois house is infested with spiders, you need a spider pest control service. ATAP employs effective and safe (for you) methods for promptly eliminating spiders and preventing their entry. We even offer quarterly pest control services to ensure your newly acquired spider-free status.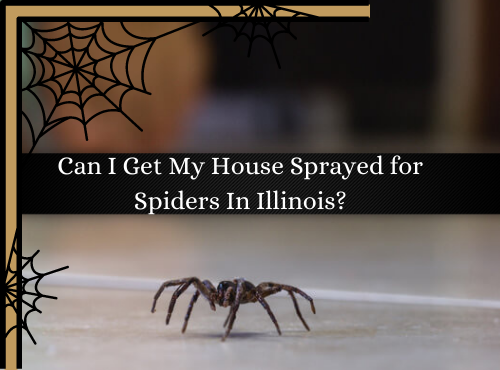 The discovery of a spider nest in your house or yard is an exceptionally unpleasant event. If you are concerned about spiders in your home or on your property, contact ATAP Exterminator' spider professionals. Our exterminators offer the perfect pest control solution for you, including spider and other common insect prevention, inspections, and treatment. Our bug exterminators will work with you to ensure you enjoy a pest-free property through our complete insect, rodent, and spider exterminator services and solutions. We offer spider nest removal and pest control as our bug extermination services.
Spiders Found in Central Illinois
We have a wide variety of spiders in Central Illinois. While the majority of them are not harmful, there are a few that are:
Widows in Black: Venom from a black widow spider can cause excessive sweating, muscle cramping, vomiting, and agony.

Recluse bites result in itching, agony, blisters, and tissue death.

Other types of spiders, such as cellar spiders (AKA daddy long legs) and sac spiders, may not bite, but you do not want them in your home.

Even tiny spiders, though, are a nuisance when they enter your home. They spread their webs throughout the area. They reproduce and multiply in dimly lit rooms. However, they scurry about your beds. They congregate around light fixtures, toilet seats, and window frames. Nobody enjoys having them in their home!
How To Defend Against Spiders
Because Illinois is cold, spiders prefer our dwellings. They desire to stay warm and look for food, which they obtain from other pests, such as flies.
That is why the first step in combating a spider infestation is to clean your home thoroughly. Of course, everyone occasionally has an untidy house. It is merely a preliminary step that we believe will be beneficial. What you can do is as follows:
Webs can be found in both obvious and obscure regions. Sweep them down or suck them up with a vacuum hose with a broom.

Locate areas where spiders feed, such as where flies reproduce. Conduct a visual inspection for standing water, old food, crumbs, and mold. Make it presentable. It effectively eliminates the spiders' food supply.

Clean away old items that have been stored in dark places while wearing gloves. Provide no hiding places for spiders.

Relocate any spider-hiding areas in your yard away from your walls. That would include woodpiles, grass clippings, and leaf piles, as well as other dark, moist areas.

Fill up cracks and gaps in your walls and around your windows and doors.
If you require assistance with spider pest management, we can assist you with all of this and much more. Contact ATAP Exterminator for spider exterminator to eradicate your spider infestation and restore your enjoyment of your own home. Can I get my house sprayed for spiders in Illinois?
Spider Attraction on Your Property
There are various methods you can take to reduce spider attraction on your property and avoid the inconvenience of pest removal. ATAP' specialists assist in developing a customized care plan to deter them from returning following our pest eradication services. The following are some of the spider protection options available to you:
Although spider infestations are not always indicative of an unclean home, frequently cleaning and vacuuming the corners of each room, as well as the areas around your window and door frames, will eliminate any existing webs. This level of disturbance renders these sections of your home uninviting to the majority of spider species. They will, however, move. Thus it is critical to maintaining these cleanings.

Take measures to eliminate other insect pests, such as ants and flies. These insects can provide a quick food source for spiders; a spider will be less interested in your property without food.

Maintain your yard, landscaping, and trees by keeping them nice and manicured; if feasible, avoid overhanging branches from your roof. Pruning bushes will keep them away from your home, garage, and office.

Arrange for professional pest control services regularly to check for spiders. 
Spiders in Illinois- ATAP Exterminators Guide
Pesticides are classified as either general-use or restricted-use. The General Standards Examination ($75) certifies general-use certification. The General Standards Examination plus a subcategory exam are required for restricted-use certification ($125 total).
Exams are held around the state. Register for the exam 15 days before the exam. To pass, you need a 70% score. The Illinois Department of Public Health has study materials online. After obtaining certification and insurance, you can apply for a commercial structural pest treatment business license.
The Illinois Department of Agriculture regulates it. Private applicators can use restricted-use pesticides on crops. This application can be on their land, rented land, or work land. Pass the 50-question exam with at least 35 accurate answers, or the 100-question General Standards or Aerial General Standards exam with at least 70 correct answers. A three-year license costs $30.
Whether for hire or not, commercial applicators must meet more stringent regulations. These applicators are usually managers, supervisors, or foremen in charge of pesticide use. To earn this license, you must pass the General Standards or Aerial General Standards exam with at least 70 out of 100 questions right and pay a fee. Commercial for-hire applicators pay $180 for three years; non-hire applicators deliver $60.
If you want to work as a commercial applicator, you must be employed by a licensed applicator. You must also pass the General Standards or Aerial General Standards test with 70% accuracy. Those operating for-profit pay $120 for three years, while that operating for-profit pays $45.
Preventing Spiders
Spiders will always attempt to creep back into your home during the autumn and winter months to avoid the freezing temperatures in Illinois. They'll then burst into frantic activity again in the spring.
That is why you require a quarterly pest control service that combats bugs on a year-round basis. It's easy to overlook spiders until one runs over your pillow. However, we do not forget. Our spider pest control specialists are constantly alert, ensuring that you never have to worry about spiders.