Where Does Pest Control Spray in Apartments
ATAP Pest Control is one of the best residential pest control companies that spray in your apartments. Call ATAP Pest Control to grab authentic services at (708) 980-0092.
Pests and insects are the most obnoxious elements in homes and flats. Without a doubt, we all desire to be free of pests. To control bugs, either hire professionals or do pest control spray all the corners and sections of your home yourself. They are the primary source of several diseases and health problems, as pets unintentionally spread various diseases and health problems.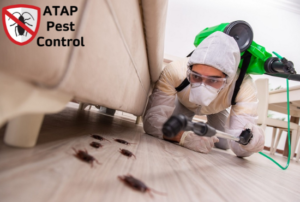 That is why you must eliminate them promptly rather than attempting ineffective and authorized approaches. Otherwise, the cost of damages will exceed the cost of elimination by a factor of two. As a result, nothing is a better solution than concentrating on pest control services. Even if you lack the necessary funds and resources, you must take preventative measures on your own.
The majority of people spray just outdoors and not indoors. However, there is a significant requirement to protect the interiors, mainly the corners. If you hire professionals, you can also request that they spray indoors.
Even if you have not observed any pests inside your home, you prefer to spray all potential entry points for future protection. Additionally, it is acceptable to remain inside when doing spray, but only if desired. Otherwise, you do not need to be present, much more so if you utilize professional services.
Let's Spray For Pest Control in The Home After Considering the Following Points:
Preparation of the Area Before the Experts' Arrival:
Even if you hire professionals to spray for pests, you must prepare the area before their arrival. To accomplish this, it is preferable to thoroughly clean the house, removing all dust and dirt from the floor. Additionally, the technician will find it easier to spray an organized area than a cluttered one.
If you are already aware of the pest's hiding locations, cover all of them. As a result, the insects will not annoy the workers. On the other hand, clear the floor of all clutter and heavy items.
Otherwise, professionals will overlook certain places, mainly corners. Remove any dust and filth from cabinets and boards before spraying, as it is not the professional's obligation to move the items.
Remember to store or place all essential items in a secure location, especially if you want no one to touch them. Additionally, there may be a requirement to dismantle or relocate the furniture to cover all areas.
It is preferable to remove these items before the expert's arrival. This way, you'll be able to save even more time and work. It would be pleasant and straightforward for technicians to work in an ideal world in a clean, stress-free atmosphere. Cover them with a plastic sheet or pull out the contents to protect them from the spray if it is hard to move them.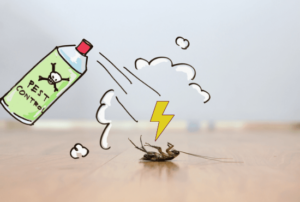 Concentrate on the Treatment Rather Than the Duration:
To be sure, most of us believe that technicians must spend the entire day spraying into our homes. However, this is not true. Time is irrelevant; what matters is coverage. As a result, I prefer to cover all bases regardless of the time commitment.
If you hire specialists, they will likely cover all of the regions in a matter of minutes. It does not imply that they are compromising on service quality. It could be due to the well-organized nature of the objects and their pre-examination.
However, the homeowner may request that the expert spray sparingly on the pest's places. Not only for insects, but you may also hire spraying services to get rid of bugs, cockroaches, and ants. It is entirely dependent on your requirements and needs.
Additionally, professionals may return to your location after a few days, depending on the bug population. Further, you may inspect and balance, particularly in areas where pests hide. After six or seven months, if there are no bugs in the designated regions, you can request spraying services from pest control near me.
How Frequently Do You Need To Spray Pesticides?
The pests and cockroaches in the targeted areas determine the duration and interval between the first and second sprays.
If you have cockroaches and ant spray, removing these vexing insects will take longer than usual. That is why it can be a lengthy process. It would be more convenient for you to schedule expert technicians according to their visits and follow-ups. However, the duration of the eradication process is still determined by the number of insects. The intensity of the infestation also determines it.
Consider The Following When Purchasing Pest Spray For New Apartments:
Without a doubt, new residences and living spaces require pest control spray as well. So you should also know where does pest control spray is in apartments.
Due to improper construction, cracks and gaps are a must in new homes. Pests can thrive inside cracks. As a result, spraying is critical to limiting the insects' access to your new home.
Moisture and dampness are most prevalent during the construction phase of a building. Once all materials and items have been removed, the spray is required for damp areas.
Insects, particularly cockroaches, can reproduce rapidly in building materials in humid environments. Even if there are no indicators of their presence, you should treat the new build area to reduce the pest's chances of growth.
Pests can multiply swiftly behind the sawdust, mould, and mildew that coats the walls. Surprisingly! If there is nothing else to eat, insects can thrive on mould and mildew.
Bottom Line
In summary, prevention is preferable to cure. Thus, it is preferable to treat all types of residences, indoors and out, with pesticide, even if insects are present invisibly. Once you've treated your apartment, you're no longer at risk of a significant infestation.
However, a single spray is insufficient. It'll be best if you do a periodic follow-up and organize spraying actions accordingly with professionals' assistance. The pre-inspection of your flat will undoubtedly assist you in spotting insects more efficiently and save you money.