Voles irritate gardeners and homeowners alike! Voles can be identified by the snake-like tunnels that cover your lawn. Here's how to identify, prevent, and manage your vole population. What do voles look like?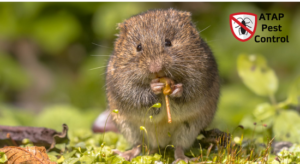 What Is the Distinction Between Voles and Moles?
First and foremost, voles are not moles! People get them mixed up because both are small, dark-colored mammals that tunnel through your yard. You may not have seen either critter because they live underground, but they are very different up close. Voles are small, stocky rodents that look like field mice. At first glance, a vole may resemble a mouse. Moles, on the other hand, are NOT rodents. Moles only have a nose and a mouth. They also have large digging feet! Voles have small rounded ears that are frequently concealed by their fur, small eyes, and short tails. Their fur is thick and light brown to grey in colour. The prairie vole (Microtus ochrogaster) and the meadow vole (Microtus ochrogaster) are two common vole species in North America  Meadow voles are more common. Still, prairie voles are more common in grassland and prairie habitats. They are very similar, and their methods of control are mostly the same.
What Do Voles Consume?
Like many other rodents, Voles are omnivores, meaning they will eat almost anything. Voles, on the other hand, eat mostly the stems and blades of lawn grass, so you'll usually see vole tunnels near the surface of the yard. Moles, on the other hand, primarily consume carnivorous insects. (Moles are useful in a variety of ways. They aid in soil preparation and consume pest grubs and insects!) This distinction is important because it will help you identify the damage and because a vole bait may contain peanut butter, whereas a mole bait may contain an insect or earthworm.
If it helps, keep in mind that their frenzy will pass. Vole populations cycle, and there is a population boom every 3 to 5 years. Mild winters with lots of snow can help vole populations grow because voles can travel beneath the snow cover, safe from predators.
How to Spot Vole Damage
Voles can be identified by the shallow snake-like tunnels that can be found all over your lawn. The tunnels are about two inches wide and close to the surface, allowing them to consume their favourite foods, grass stems and blades. Voles are particularly active in the early spring.
Moles, on the other hand, have a network of deeper feeding tunnels. They do have secondary runways that appear on the surface of your lawn, but they look more like raised ridges with little volcano-shaped mounds. Voles don't leave any mounds behind.
Voles can also be identified by the type of damage they cause. Remember that voles are plant eaters. You most likely have a vole problem if you have partially eaten carrots, potatoes, or other root vegetables in your garden. "They dig under my carrots, pulling them down and eating them," one reader wrote. Where the carrots used to be, there's just a row of holes. It's kind of like a Bugs Bunny cartoon. They're a real annoyance this year." Atap is the best exterminator near me.
Voles also eat flower bulbs from beneath the ground because they are close to the surface. Look closely if you notice chewed-up bark near the base of trees and shrubs. As it gnaws on the bark, a vole's front teeth will leave 14-inch side-by-side grooves in the wood. (After all, they are rodents!) Voles can also tunnel through any root system, causing tree and shrub damage. Vole activity may be responsible for young trees or shrubs leaning over.
Prevention And Control
Getting Rid of Voles
If you've arrived at this page, we assume you're looking for quick solutions to your vole problem! If preventative measures are no longer possible, consider the following control measures:
Trapping may be an effective method of reducing vole populations in small areas. Try placing Havahart live vole traps perpendicular to the widest vole runways or near nesting sites at the base of trees and shrubs. Peanut butter is used to bait traps. Set out baits between midday and early evening, when voles are more active. Reset the traps as needed until the population is eradicated. If it's legal in your area, relocate voles. (Be aware that this may not be the case!) Persistence is essential in trapping. You may want to cover the traps to prevent pets and children from accidentally discovering them.
Repellents produce mixed results and must be reapplied after rain. Garden centers sell fox or coyote (vole predator) urine, which deters voles.
Controlling the bulbs? Voles can be deterred from nibbling on bulbs by adding gravel to the planting hole (surrounding the bulbs). To keep voles at bay, drench or powder your bulbs before planting.
The best way to prevent vole damage to tree bark is to encircle the tree with a light-colored tree guard (mesh or hardware cloth). In the winter, the guard should be tall enough to reach above the snow line, and the base should be buried in the soil or have a soil ridge around it. Make sure the guard is not too tight so that it constricts the tree.
Voles in your vegetable garden? These little creatures aren't great climbers. Protect plants by erecting a half-inch mesh (hardware cloth) fence at least 12 inches above the ground and burying it 6 to 10 inches deep.
Some readers have suggested using cayenne powder, garlic, onion, castor oil, a little nitrogen fertilizer, and ammonia as irritants in vole tunnels (from natural to chemical). These ingredients can often be combined with water or soapy water and placed in a spray bottle. You will, however, need to reapply if it rains.
An outdoor cat or dog that is a specialized ratter is one of the best control methods!
Large vole populations have been effectively reduced with baits if you are desperate and about to sell your home. Most pesticides are recommended for voles, on the other hand, some are restricted and can only be used by Certified Pesticide Applicators. While early spring damage may be visible, it is rarely permanent. Vole activity in most areas peaks in the spring and then declines! Simply rake the dead grass away and reseed the area. The trails will be hidden as the surrounding grass grows.
How to Avoid Vole Damage
Make your yard uninviting to voles! Prevention is critical for reducing vole populations. Voles prefer dense, heavy vegetative cover, weeds, and meadows because they protect them from predators and serve as nesting material. Clear the brush, mow, weed, and keep the area clean.
Remove woodpiles and vole hiding places near your garden, shrubs, and trees.
Maintained a mowed lawn and trimmed bushes from the ground.
Avoid mulching too close to trees and shrubs.
Keep snow off the trunks of trees and shrubs. Wrap the lower trunk of young trees in a chew-proof material to protect them (such as small-grade hardware cloth).
Bird feeders are another source of attraction for voles and should be removed or kept very clean to reduce vole populations.
Voles, fortunately, are a favorite food of many predators, including snakes, hawks, owls, foxes, and badgers!
Atap exterminators are known for pest control Chicago. Learn how to distinguish between voles vs moles tunnels. You can call them anytime at 773-701-7705.